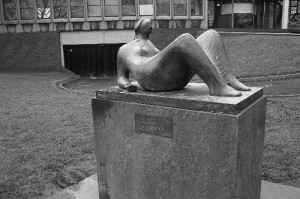 Henry Moore's Reclining Figure (1952/3) has been removed from outside the civic centre in Castleford in order, it is claimed,
to protect it from theft by scrap metal merchants. Erected in 1980 (in the sculptor's home town no less), it is not known when or where the work will be returned to view – presumably when all the, er, charming, alternative scrap metal merchants have been packed off home to Limerick and Romania. Castleford's does seem an over-reaction to the spate of sculpture pinching. All the other recent high profile thefts have taken place at secluded sites, graveyards, parks and country houses, not from the central square of a town whose inhabitants are milling about all night
404 Not Found
drinking and smoking their benefits away. Presumably the local councillors could instigate inexpensive measures to prevent its illegal removal. If Castleford is right on this there will soon be no Moores in any town.
This figure, Dr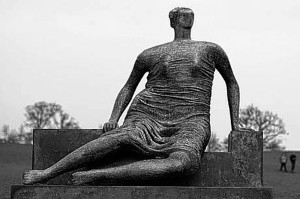 aped Seated Woman of 1957/58, one of Henry Moore's most eye-catching bronzes, is to be sold by Tower Hamlets council. (As readers of Private Eye will know, Tower Hamlets seems to be run as a sort of private fief by an Asian mafia.) The sculpture used to be sited on the green in the middle of a Stepney council estate, which was demolished. It