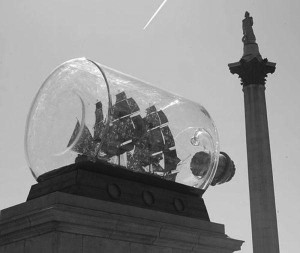 The National Maritime Museum in Greenwich has bought for £362,500 the ship in a bottle by Yinka Shonibare which had sat ornamentally becalmed on the fourth plinth in Trafalgar Square for the previous 18 months. It is the Greenwich museum's job to collect ships and related tackle and, lately, any sea-related nonsense deemed  'challenging' by State Art's omniscient spivs. It is significant, if you hadn't realised, that the ship's sails are made from patterned ethnic material of the sort usually swathed around gigantic arses in Dalston market. This encourages what one of the Tate's finest drivellers grandly declares as "a transformation of perception". Elsewhere, the same stuff is said to make an incisive comment on Britain's nasty maritime heritage, "an exploration of colonialism and post-colonialism" no less. Needless to say we are not informed into what our "perception" is "transformed", nor how "colonialism" is "explored" by deploying some patterned swatches purchased from a Brixton stall. I suppose we must now accept this species of commentary as the naturally occurring guff which will in perpetuity follow conceptual art wherever it goes.
The sculpture, dubbed Nelson's Ship in a Bottle, has recently been unveiled on a plain ziggurat base bang outside the National Maritime Museum's main entrance. Here its presence will doubtless be interpreted as a Blair-like mea culpa for the historical misdeeds of our racist, slave-driving antecedents. Others may interpret its prominence and worship as illustrative of an abject and risible political correctness. Whatever, the bottle is a pretty enough toy untroubled by art. I wish to investigate briefly this apparently straightforward purchase because it reveals the questionable ways in which contemporary art is conducted by a small number of people for the benefit of an equally small number of other people who pop up ubiquitously pulling strings in proceedings such as these. It is curious indeed how the names are always the same ones. These 'questionable ways' may be baldly summarised as follows:
1. We are never told the whole truth, even by public relations' companies paid to deal with inquiries, and especially concerning the actual cost of anything. State Art is terrified of you knowing the truth, which is the reason why so frequently it is caught out lying.
2. Obtaining accurate and complete information from arts bodies requires Kafkaesque determination and, when finally a morsel is vouchsafed, it is always uncooperatively partial and might easily contradict what has been released before.
3. State Art has to be secretive in order to make the public believe that the visual arts are kept cruelly on the breadline and are not, as is the truth, awash with quite staggering amounts of cash which miraculously come available for the right people. If you are a Yinka Shonibare, with access to the engines of State Art, whose institutions you have dutifully served, this system is a licence to print money.
4. The number of bodies dealing with contemporary art is far too numerous and wastefully duplicating of effort and resources, and any independence in their policies and actions is compromised by frequent interchange between them of the same few personnel.
Three issues ago Moping Owl asked why we needed to buy Shonibare's ship when, she thought, we already owned it. Didn't we?  Had we not already commissioned and paid for it to sit on the plinth?  Well yes, sort of. Owl's was a natural mistake, especially in view of what we had already been led to believe by what, up to that point, we now know had been an economical rationing of information. £362,500 is three times the record price paid at auction for any work by Shonibare. To pay apparently so much over the odds is surely just a little questionable, but the truth is that this figure is nowhere near
When the purchase was gleefully trumpeted, as though we'd just acquired for peanuts a lost masterpiece by Praxiteles, a breakdown of the cost was supplied. This was based on the interesting claim put about by the artist's dealer that an unnamed South Korean businessman had been prepared to pay £1.25 million in order to display the bottle in his garden. This outcome was described as "a real possibility" – which sounds to me a bit like the belief among, say, QPR fans that there link