Dick French
November/December 2020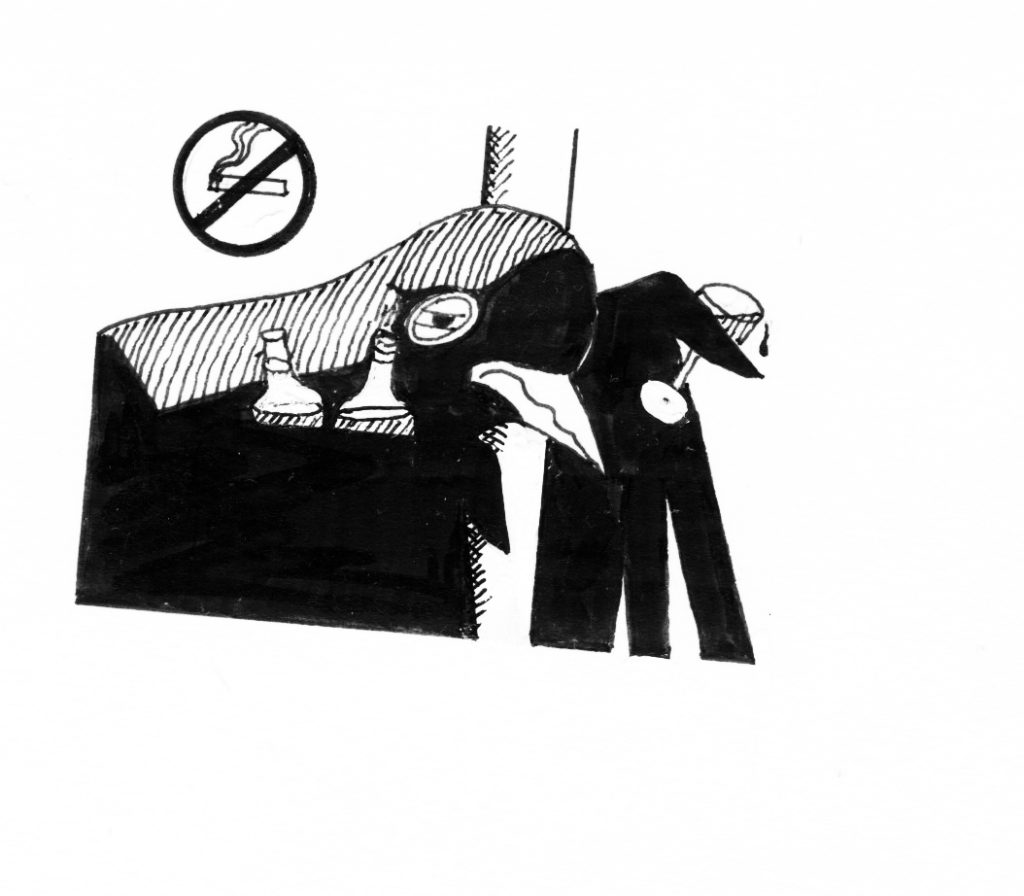 Rebecca Cains has died. She was only 50. "Death lies on her like an untimely frost." Also known as "Becky the Scrapyard Queen" on account of the subject matter of her paintings – mostly wrecked cars and vans on roads or in scrapyards. She showed occasionally at the Royal Academy and frequently at Mall Galleries, where, at the time of her death, she was becoming something of a big cheese who sat on committees, etc.. She will be missed by all the hep cats in Bradley's Spanish Bar where we always ended up jiving to the juke box.
For many years, while living in Italy, she had been a professional dancer, so she always knew how to get the best out of opponents. The last time I saw her was just before the lockdown when we went to the opening of the Leon Spilliaert show at the RA with Dirty Harry and Mrs Cravat. She looked well and was in good spirits, even though she had been diagnosed with cancer five years before and it had now come back to haunt her.
She was impressed by Spilliaert's picture of an absinthe drinker and said that as soon as she got back to darkest Somerset she would attempt a portrait of a cider drinker. I don't know how far she got with that. She could have had him or her sprawled out over a rusting bonnet nursing a two-litre bottle. The colour and sparkle of the cider would have gone nicely with the rust.
She was very fond of motoring, up to a point if a little vague. I once asked her what sort of car she was driving. She paused a bit before replying: "It's a brown car".
Throughout her illness she bravely carried on conducting dancing classes; jazz dancing it was, and something else called zumba.
She leaves two grown-up children, ace guitarist Gianluca and the glamorous Gaia, who is about to start at Camberwell. She can't fail.
Spiv, teddy boy, conman, "prize wanker with a pocketful of red herrings"… All these terms have been used to describe Lucian Freud
at various times in his career. William Feaver has written a most amusing two-volume biography of Freud. It's full of great stories but like the Warhol biography I reviewed a few issues back I feel the author is overly enamoured of his subject. This is a little off-putting.
Rather in the manner of many French intellectuals, Freud was fascinated by the criminal underworld. He had many dodgy friends. Round about the time of the Festival of Britain he was producing some remarkable work. There is a rapt obsessiveness about them that reminds me of Richard Dadd. Think of The Child's Dilemma, a watercolour in which a child is moving a chess piece with a look of insane concentration. His portrait of Viscountess Rothermere, Mrs Ian Fleming, has something of this, although Evelyn Waugh hated it and said he'd put the tiara on crooked. It looks more like a hat to me. Ian Fleming hated Freud and Freud hated his stay at Goldeneye and, of course, Fleming.
He came strongly under the influence of Francis Bacon and started to use hog's hair brushes and thicker paint. His portrait of John Deakin (illustrated) is excellent, but a lot of the others were just dreadful; such as the joint portrait Michael Andrews and his wife. It's hard
404 Not Found
to believe that this was the same artist who had painted Interior in Paddington with Harry Diamond standing in his raincoat by the window, fag in hand, beside a potted palm. He wore that raincoat forever. Many years ago I was stuck in the French pub with Harry Diamond. Like many of these celebrated Soho characters he was a colossal bore.
An American writer noted that Freud was good but not that good. I think this was true. With thin paint he was unique. But his handling of thicker paint, with few exceptions, was indifferent and sometimes downright unpleasant, dry and knotted. From time to time he could do it, as in the portrait of Deakin. The ears and the complexion are great, as is the fluid treatment of the forehead, a human beetroot.
And what are we to make of his portrait of the Queen? Zorba must have had a good chuckle over that one.