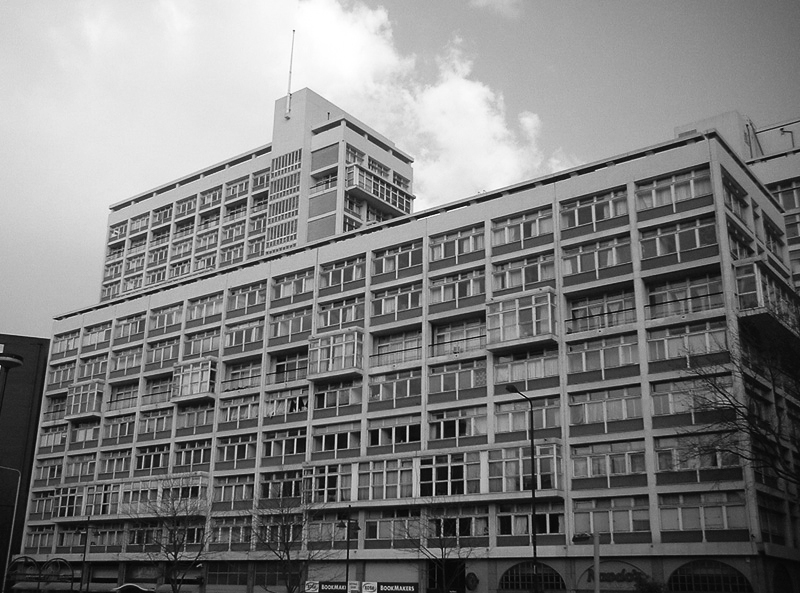 Sometimes material appears in a "serious" newspaper which—even in our  current cultural condition—is at an astonishingly low intellectual level to come from the prominent "authority" who wrote it. Disagreeable though it is, perhaps one should occasionally draw attention to such material, and subject it to closer inspection. Those who can bear to do so, should read Stephen Bayley's article in the Daily Telegraph about Ernö Goldfinger's Alexander Fleming House (now renamed Metro Central Heights), which can be found online at:
http://www.telegraph.co.uk/culture/art/architecture/10171321/Look-away-Prince-Charles-Goldfingers-Tower-is-wonderful.html
The quotation from it on p.43 of the Sept/Oct issue fails to convey the scale of the self-important imbecility displayed in the article as a whole.  It begins with a baffling non-sequitur. Having invoked the Japanese notion of "wabi-sabi" (roughly, a spiritual quality conferred by the patina of aging), he continues
"To be aware of wabi-sabi is to be aware of the language, even the poetry, that mute buildings and dumb things speak.  Until recently, few people thought fine Zen thoughts while passing through the grimly urban and diesel toxic Elephant and Castle in south London. Now we all can. Indeed, will."
"Until recently"! By virtue of what power, on what recent occasion, have casual passers-by suddenly been granted this momentous epiphany, which they not only "can" but "will" experience? Is it the power of Bayley's own eloquence in the article itself? If not, it must be the event of the building's being listed by English Heritage, which was also the occasion of Bayley's article; for no other reason is given to expect the rapid transformations of human experience which would justify this astonishing claim. Must we, then, according to Bayley, attribute to English Heritage powers we had not dreamt of its having, powers of a supernatural or, at least, sacerdotal character? Or is English Heritage held in such popular esteem by all those thousands of people moving through that "grimly urban and … toxic" environment every day (some slight relief here in observing Bayley's immersion in fantasy to be less than total) that the wisdom of its pronouncements fills their minds, and is received so eagerly and uncritically as to transfigure and regulate their perceptions?
Bayley's claims are supported by nothing whatsoever but the assumed authority of the workings, or rather lurchings, of his own mind. The entire article consists of mere assertion and egregiously transparent non-sequiturs. What exactly, for instance, is the argument supposed to be in the following?
… his Trellick Tower in Notting Hill and its twin sister Balfron Tower in Poplar (already listed) are hatefully remembered icons of infamy for those who lazily condemn all modern architecture as heartless and inhumane. Yet a thoughtful appraisal reveals as rich a variety of historical sources in their design as you would find in Vanbrugh: the bravura Futurism of Antonio Sant'Elia, the bold shape-making of Auguste Perret and the structural theories of Le Corbusier, for example.
Whether or not Bayley has correctly identified them, and whether or not the richness of their "variety" is comparable with what we find in Vanbrugh, why should the discovery of "historical sources" for Goldfinger's designs have the slightest tendency to establish that the buildings are not "heartless and inhumane"? Is a lack of "historical sources" a necessary condition for a building to possess these regrettable attributes? Would it be impertinent to ask Bayley where he finds grounds for that principle, other than at some chance place where his mind was brought by its randomly veering motions, and came briefly to rest? Not to overstate the point, the principle is not self-evidently true. Since the absence of "historical sources" is unknown in architecture,
---
nginx/1.21.1
or even in "architecture", it entails the intriguing conclusion, which is not—shall we say?—intuitively convincing, that there can be no such thing as a heartless or inhumane building.
Bayley claims that the listing of Alexander Fleming House "recognises several important things. For example: the fragility of prejudice, the permanence of concrete (which if we are