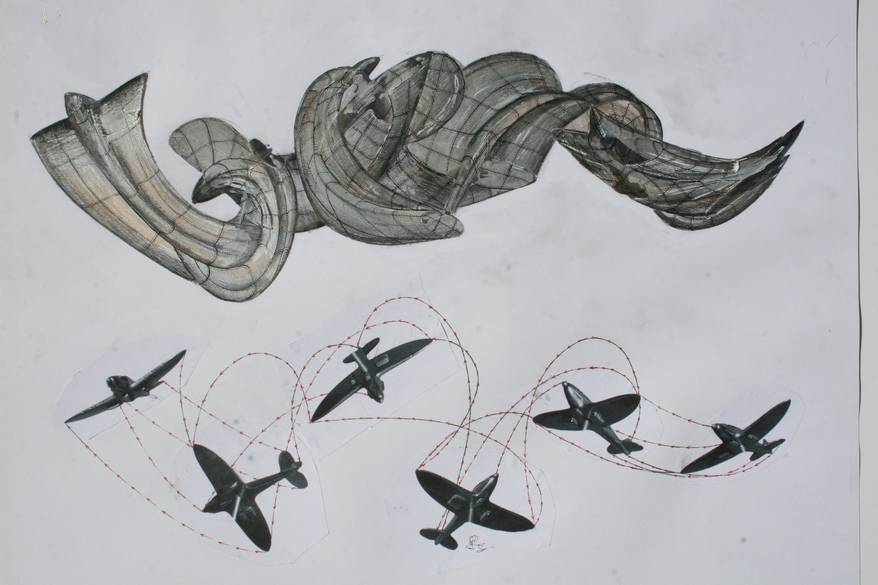 Richard Wilson's 77-tonne, £2.5 million sculpture Slipstream in Terminal 2 at Heathrow looks better in small, professionally taken photographs. In the flesh it disappoints. Looking more like a plane crash or an imploded barrage balloon than the rolling Spitfire which is claimed to have inspired it, it is so huge and so easily disappears into the building that many passengers walk past it without noticing, which defeats its stated purpose to stop passengers in their tracks. Nobody breaks step to look at it not least because a busy airport is an inappropriate space for sculpture requiring not just attention but a walk around it. And if you spotted it, short of identifying a connection with aircraft construction, you would have to be told what it was there for and what it signified, for no way might you work it out from observation. Indeed it is too large for its space, and there is no one vantage point from which it can be understood clearly. At the blunt end its shapes seem unresolved even coarse. Like many new buildings, the Lowry Centre in Salford Quays comes to mind, the flimsy aluminium panels covering it are bent and rippled from being badly riveted together lending it an amateurish appearance. If nothing else it makes you realize how well-made aircraft are; the boilersuits of Seattle and Hawarden would laugh out loud if shown this effort. Formally it makes no sense and progresses randomly, on and on, from one passage to another.
Like many oversized sculptures it implies the nasty decadence of an age impressed by scale in which demands for something more than the merely superficial are derided for their lack of brash ambition. This is an unpleasant object suspended in an atrium which would be more agreeable without it. With this work the elephant in the room is meaningless public art.
Richard Wilson is a surprising artist, but this baggy mess defeated him. It landed stillborn and perhaps of all his works it is, unfortunately, the one which will last the longest.
David Lee