Few save masochists would venture as far as Kendal in order to see work by Bethan Huws, not least because unless you happen to have attended one of State Art's indoctrination sessions you won't have heard of her. A taste considered acquirable only by the starving, Huws is among State Art's chosen apostles. Sadly, she is unmissable in Kendal for the wrong reasons.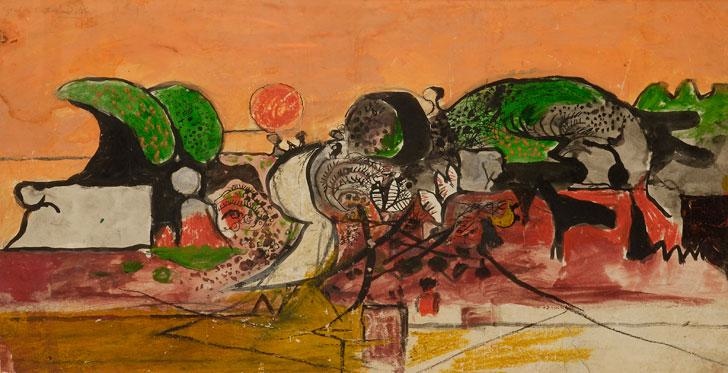 For most the Lancashire town is distant and in previous decades only the likes of George Romney, who was born there, Sheila Fell, a landscape painter now forgotten but at her best worth travelling to see, and Thomas Bewick, father of English wood engravers, have attracted this paper to its fastness. All were worth the trip. Additionally, several decades ago the town's Brewery Art Centre staged ambitious photography exhibitions, but no longer.
The main event at Abbott Hall until September 15th is landscapes by Graham Sutherland, an artist once considered among the country's finest artists but now relegated to the long list of those dismissed and, like Trotsky, as good as doctored from the record. Like his contemporary, the equally disregarded John Piper, Sutherland is considered the sort of parochial petit maître in which British art specialised during the mid-20th century.
Until recently, of the Tate's 56 works by Sutherland none was on display although three pieces have been dusted down for the Millbank rehang. Between 1935 and 1945 Sutherland was among the six most recognized artists working in Britain, each of whom was aware of what the other high flyers were up to. With knowledge of the latest Parisian isms, and especially Surrealism (this undoubtedly due to the well-promoted London surveys of this movement in the mid-30s), Sutherland explored form well beyond the conservatism of his instinct and training.
This is an absorbing exhibition organized by those understanding of and sympathetic towards Sutherland's direction. Among a small number of important works are pieces showing the inventions needed to arrive at an appearance, a feel, beyond the superficial and well distant from the topographical. Exaggerating natural forms which attracted him, his work is the equivalent to the experience of a country walk during which details and oddities are noted and accumulated. Like Piper, he found no idiosyncracy of natural shape uninteresting.
The perfect accompaniment to the first room of the exhibition which traces Sutherland's beginnings in detailed pastoral etchings inspired by Samuel Palmer's bucolic prints (some are helpfully included), would be silence. Just as you need to listen to a landscape by Rubens or Constable an ear helps with these link