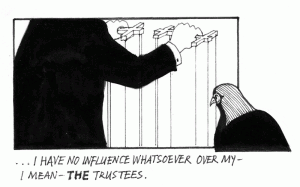 The Tate recently named two new trustees, one of whom /* 9-970x90 */ is painter Tomma Abts. She is a 44-year-old German, recently appointed Professor of Painting at

域名Domain Name:jb54.com

the Kunstakademie in Düsseldorf, who won the Turner Prize in 2006. As an artist trustee, she
replaced Jeremy Deller, who won the Turner Prize in 2004. Abts's paintings are all the same small size (48 x 38cms) – it is claimed this tic is conceptually crucial for a reason never convincingly explained – and consist of polite abstract designs which might have looked original on google_ad_height = 90; curtains at google_ad_client = "ca-pub-3967079123942817"; the 1954 Ideal Home Exhibition. So much for the Cutting Edge. The Tate claims her pictures "possess a formal definition and coherence that suggests that they could never have existed any other way … [and] seem to achieve what only painting can, inhabiting both this reality as an object or 'thing', and a parallel world with its own set of rules and relationships that demand to be judged on their own terms." As per with their interpretive literature, all helpful stuff.