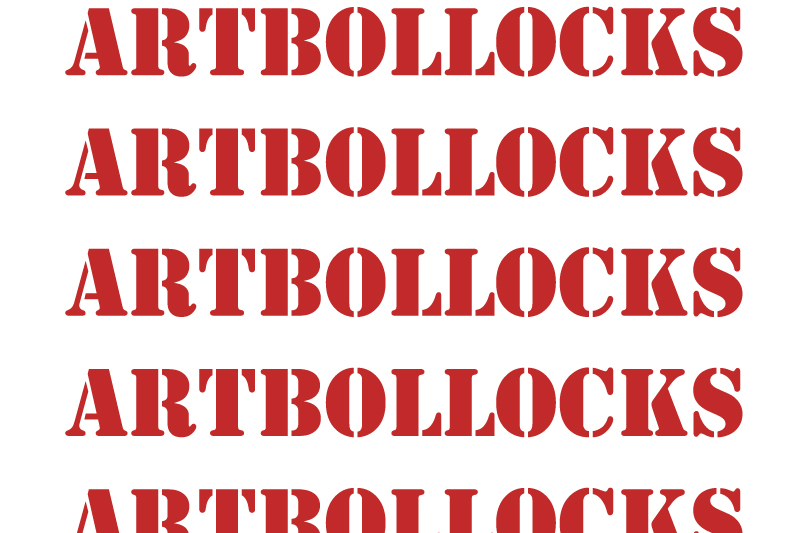 width="800" height="533" srcset="http://www.thejackdaw.co.uk/wp-content/uploads/2013/07/artbollocks2.jpg 800w, http://www.thejackdaw.co.uk/wp-content/uploads/2013/07/artbollocks2-300x199.jpg 300w, http://www.thejackdaw.co.uk/wp-content/uploads/2013/07/artbollocks2-82x55.jpg 82w" sizes="(max-width: 800px) 100vw, 800px" />Laura Gascoigne demonstrates how Artbollocks is now recognised as a joke among almost everyone excepting the time-serving devotees of State Art.
In January the Guardian's
G2 section published an article by Andy Beckett titled 'Er, anyone know what transversal means'? It reported on the publication in an American art journal last year of an essay identifying a unique form of English peculiar to the gallery press release. The authors David Levine, an artist,
and Alix Rule, a critic and sociology PhD student, had spent two years collating examples
in the attempt to codify the language's distinguishing features. "We'd find some super-outrageous sentence and crack up about it," said Levine. "Then we'd try to understand the /* xin2 */ reality conveyed by that sentence."

Well whaddya know? The press has finally woken up to Artbollocks, three years after The Jackdaw lost the will to anatomise it. And we thought newspapers were in the business of breaking news. But Levine and Rule had a more newsworthy name for

jb54.com

it – International Art

Process Overview:

English – and a more
modern methodology. Their use of language-analysing software gave them

They discovered some interesting things. They noted, for example, that 'the real' was mentioned 179 times more often in IAE than Standard English

(a figure that sounds suspiciously like a multiple of one). They also detected in its post-structural structure a genetic resemblance to "inexpertly google_ad_slot = "8637400688"; translated French". They observed /* xin-1 */ that it "has

everything to do with English, but is emphatically not English". They also found it "oddly pornographic" and concluded that, like pornography, it was basically about power – an insider's coded language that "has made art harder for non-professionals".

What their research didn't explain is

通过金名网(4.cn) 中介交易

how the

4.cn is a world leading domain escrow service platform and ICANN-Accredited Registrar, with 6 years rich experience in domain name brokerage and over 300 million RMB transaction volume every year. We promise our clients with professional, safe and easy third-party service. The whole transaction process may take 5 workdays.

arts desks of our English-language

newspapers

exhibition The Inconvenience of History, despite the fact that ideologically speaking – with its focus on Israel and the Occupied Territories – it was core Guardian readership material.