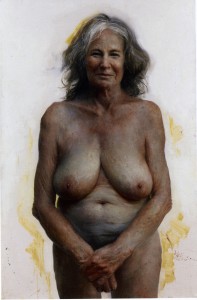 Almost part of The Season now, the only surprise these days about the annual BP Portrait Award is that the Queen doesn't cut the ribbon and hand out the rosettes. As ever, this year is as popular with the public as any art exhibition, with large numbers jostling and genuinely engaging with the work eagerly discussing merits and demerits of more conspicuous pieces.
As usual the winning picture, Auntie by 26-year-old American Aleah Chapin, is not the most refined effort though it deserves commendation –­ if only because the sitter has comfortably the noisiest breasts in the show. One subject of the picture is perhaps what the ageing process does to flesh and muscle, although the painter has presented it in an original and not necessarily unflattering way, suggesting that while the run in to death might be sad it is not always unsightly.
Somewhat off sharp focus and pinned specimen-like to an unfinished background to
---
nginx
which the figure's outline is here and there uncomfortably cut, the sitter confronts us very slightly as if from the past, as though the painter has approached her subject wistfully. Auntie seems not to be fully in the present and invites thoughts of how in old age personalities, histories, gradually dissolve. It is a nicely judged picture, and there's love in it.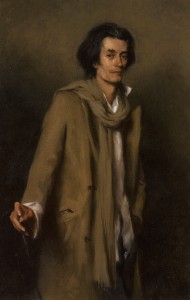 Isabella Watling presents The Importance of Being Glenn. Less conspicuous and subtler than the winner, it is duller but arguably more artfully painted. Watling is the more impressive painter for having been classically trained at the Charles H Cecil Academy in Florence, where she is still a student. Indeed, the winner of the Young Artist's prize, Jamie Routley, is also a graduate of this school, as is another potentially successful young artist Tim Gatenby, for a portrait of his grandmother. Any of these three
might win the prize in the future. The work of the Cecil Academy's graduates – the impressive Frances Bell is another – stands out in the context of those paintings which use overbearing