Painter John Nutt reappraises the forgotten and routinely maligned William Orpen.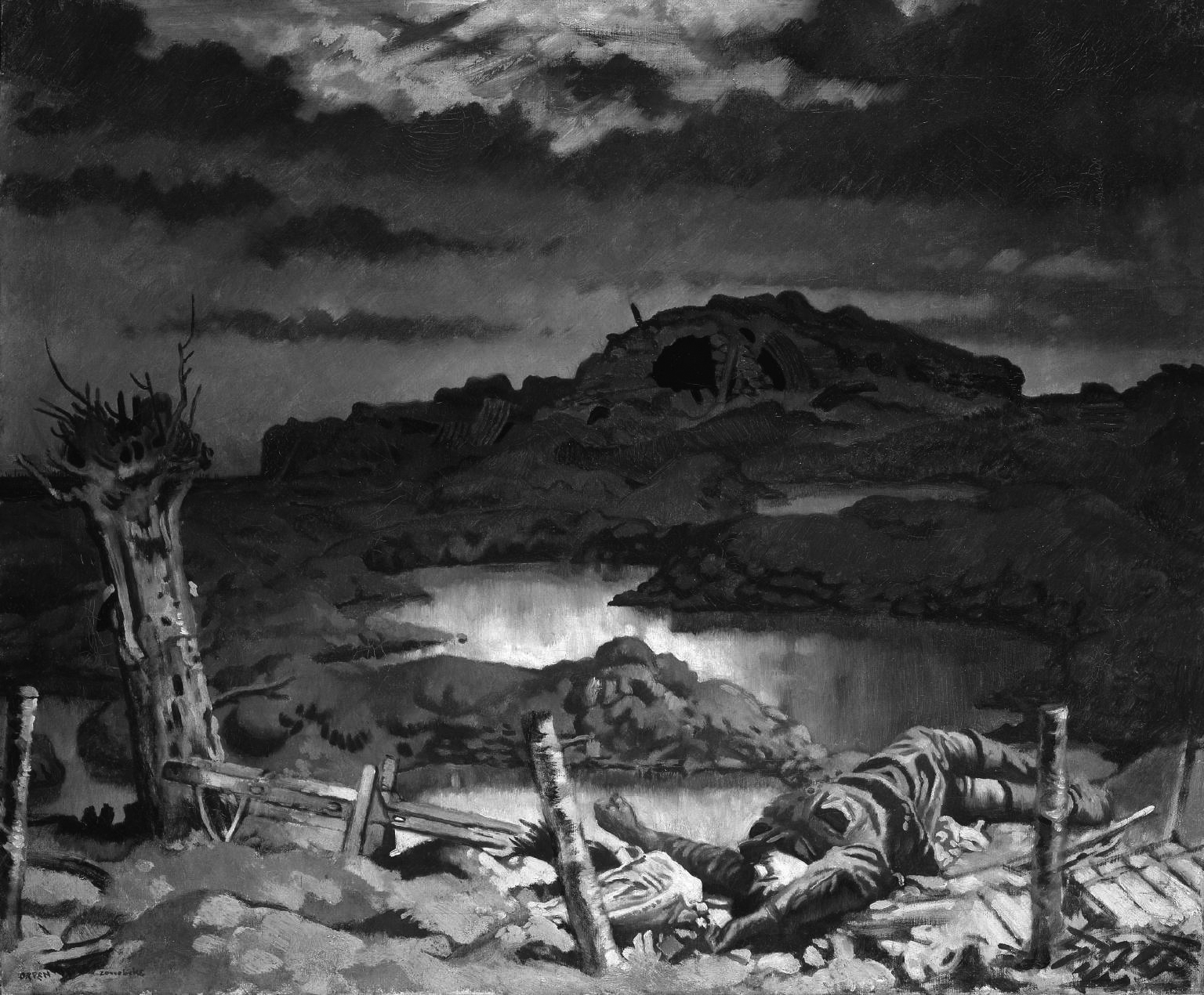 Largely for historical and religious reasons, the Irish have been persistently marginalised in British society. Orpen was the youngest of five children of a prosperous Irish Protestant solicitor. He was born in 1878 in Oriel House, Grove Avenue, Stilorgan near Dublin, where he enjoyed a comfortable middle class Irish childhood. He became a stateless dissident in spite of his wealth and knighthood and he is arguably the most significant artist that Britain produced at the start of the 20th century. Recently there has been some revival of interest in his work. Re-visiting WW1 in 2014 it seems appropriate to look hard at Sir William Newenham Montague Orpen, KBE, RA, RHA.
Orpen came back to public attention when a painting of Yvonne Aubicq, entitled The Refugee, was discovered by Rupert Maas on BBC Antiques Roadshow. This portrait of Orpen's war mistress was a copy of the original painting entitled The Spy in the Imperial War Museum. A Roadshow spin-off recording the copy's discovery is available on YouTube. The original painting caused the artist considerable difficulty. He tried to get it past the official British army censor, Lt
Col Lee, by inventing a story to justify a private painting completed whilst engaged as a war artist. He told a tale about a fictional female spy who was to be executed and who removed her greatcoat to expose her naked body in front of the firing squad, all nonsense. Unfortunately this was 1919, and as Mata Hari and Edith Cavell had just been executed, this poor judgement was distinctly awkward for Orpen. Facing a court martial, it was the intervention of his friend Max Aitken, Lord Beaverbrook (who had just established the War Artists' Advisory Committee in 1918) that saved his career. It is thought that the recently discovered painting is a copy painted for Lord Beaverbrook.
One hundred years on we have difficulty with all of Orpen's oeuvre. Its slick, tense and formal representation appears superficial – it was produced at the same time as Duchamp's readymades. The effortless skill belies the psychological depth of which Orpen was capable. In June 1916 Charles Masterman, Head of the War Propaganda Bureau, set up the war artists' scheme at Wellington House. The printmaker Muirhead Bone was very anxious to avoid conscription and was sent to the Western Front as the first official war artist. Orpen was the fourth artist to be enlisted in 1917. He was given the honorary rank of major, and provided with an official car, a driver and an annual salary of £500. He could never
404 Not Found
have been conscripted as he was only five feet two. He set out with an intention to record what he saw and adhered with single-minded industry to the army remit, suspending judgement and recording truthfully what was in front of him.
What distinguished Orpen from other war artists was his overall excellence and his work ethic: Augustus John did practically no work while Nevinson suffered emotional issues. Masterman insisted that the artists should have a free rein and Nevinson didn't know what was expected of him. Masterman also believed that they should make  documents as well as propaganda. His intention was that the avant-garde would storm the moral high ground, but Orpen wasn't exactly avant garde. This is a measure of a century of cultural decline. Who could be sent today: Carla Black, Jeremy Deller or Martin Creed? There is nothing of the moral outrage, spite or anger of Dix,  Beckman or Grosz in his war paintings, only a resigned acceptance which developed into total disillusionment. In contrast, Paul Nash declared that, as a war artist, "Feeble, inarticulate will be my message, but it will have a bitter message and may it burn their lousy souls".
Orpen also produced many official army staff portraits and after the war he became a successful and wealthy society painter, portraying British post-war aristocracy. Following his early death at the age of 52 in 1931 his reputation faded and was completely demolished by the personal attack of his wife's nephew Sir John Rothenstein, Director of the Tate, who disliked him intensely. "I have seldom known any man, and never a man of superior talents, with so little intellectual curiosity and so feeble an intellectual grasp, or with so contemptuous an attitude towards the life of the mind as Orpen", he wrote in Modern English Painters. Rothenstein's father William had offered his services to the war artists' committee but because of his German connections he was initially turned down.
Orpen was limited, in Rothenstein's view, by not having had a public school education. His war diary, An Onlooker in France, is difficult to read and rarely describes his real feelings, except for an identification with the 'poor bloody infantry'. Recording his disillusion at the end of the book the mask slips when he expresses anger with 'frocks' (politicians) for the lack of sympathy they displayed for the millions of dead at the Versailles Peace Conference. Rothenstein complained that when he was a boy he often had to ask Orpen to repeat himself. He was difficult to make sense of, he spoke so rapidly. His childlike character meant that he never turned down the opportunity to participate in a children's game. It is said that on one occasion when leaving the Hibernian Academy in Dublin with a group of worthies he set off at a run at the head of a group of children joining in their game of kicking a can down the street. At the age of twelve when he was sent to the Dublin Metropolitan School of Art, going on to the Slade at seventeen so, encouraged by his mother, he had worked continuously as an artist from childhood. His lack of literacy according to Rothenstein emerged in gauche imagery, in the form of an Irish naivety that wasn't understood or appreciated. The Harvest, The Western Wedding, The Holy Well and Sowing New Seed are examples of paintings that exhibit weird narratives which are in reality satires upon Irish allegories.
Rothenstein's assertion that he had "little intellectual curiosity" and that he was a poorly equipped Irishman incapable of engaging intellectually with the momentous tragedy of the Western Front is unfair. Few who witnessed WW1 at first hand had any intelligent grasp of what they experienced, least of all the Army staff officers whose lack of training, imagination and flexibility have since become a paradigm in English culture for intellectual inadequacy. It took the privileged public school scholarship of a Rupert Graves or Siegfried Sassoon to chronicle the tragedy of the war, but Orpen succeeded in recording it dispassionately in images. Poor working class infantry had all left school at 12, so Orpen's education may have been deficient but it was standard. His nephew also informs us that he was visually handicapped, that he had protanopia, a red deficiency which affects 1% of the male population. Some authorities assert that Orpen tried to compensate for this as his career progressed. Rather than paint what he saw, as other colour-blind artists have done, he exaggerated colours, and this may have been a necessary compensation as displayed in the colourful effects he used in some of his later portraits. His portraits of Dame Madge Kendal, Mrs Thomas Howarth and Mrs Charles Hughes are examples of a lurid and acrid palette. Rothenstein cites four elements as evidence of his failure as an artist (i) an Anglo-Irish family (ii) an exceptionally happy childhood (iii) a lack of formal education and (iv) attendance at art school whilst still a child. He asserts quite wrongly that while Orpen regarded Irish politicians with affection he never expressed admiration for any English public figures apart from Lord Derby. His main friends were Irishmen, gallery owner Hugh Lane and novelist George Moore, and that he was also quite incapable of reading anything serious. Rothenstein also repeats that he resented growing up because it led to disillusion with the world. This makes no allowance for the alienating experience of WW1.
When not painting