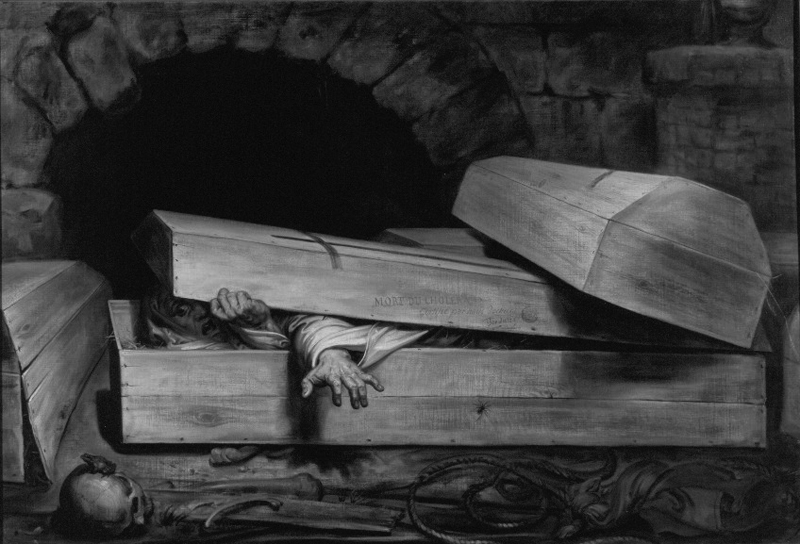 The house-museums of two Belgian masters of the 19th Century shed light on artistic and social concerns of the era. As case studies they exemplify dominant thematic trends in both halves of that century – Romanticism in the first half and Realism in the second.
Antoine Wiertz (1806-1865) was born to an impoverished family in Dinant, Wallonia (later Belgium). After studying at Antwerp Art Academy, he won the (Belgian) Prix de Rome at a second try, in 1832.  His grand manner was Romantic and painterly, derived from Rubens. His subjects anticipate those of the Symbolists. Though Wiertz made his name with historical and religious compositions, the allegories and  (often gruesome) scenes of contemporary life are his most distinctive contributions to art.
In 1850, partly in order to establish Belgian art as independent of French influence (led by the School of David; J-L David (1714-1825) spent his last years in Brussels) the newly formed state agreed to build a studio and dwelling for the benefit of Wiertz, the first truly "Belgian" artist. The initial agreement was that the artist would donate works to the state but it seems Wiertz early on had the idea of turning the studio into a permanent museum. The government drew the line at Wiertz's proposal to fund the construction of a ruined temple in the studio grounds. Upon the artist's death the combined house and studio became possessions of the state. Both building and grounds have remained unchanged since 1868, now a fragment of a lost age lodged under the glass towers of the European Parliament.
Photographs leave one unprepared for the vast scale of the studio and its contents. The studio is 35m long, 15m wide and 16m high, accommodating gargantuan canvases almost as tall and wide as the walls. Subjects are suitably grand: