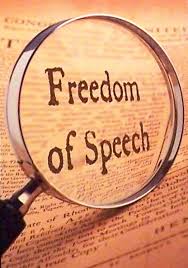 ALEXANDER ADAMS rehearses recent arguments concerning freedom of expression before arriving at his own conclusion.
"One person with a belief is equal to a force of 99 who have only interests."
JOHN STUART MILL

On February 14th, 2015 an Islamist gunman attacked a café in Copenhagen where a debate on free speech was being held. Speaking at the meeting was Swedish artist Lars Vilks, who had been issued with death threats because in 2007 he drew cartoons of the prophet Mohammed that were considered insulting by some Muslims (and some non-Muslims). Vilks was unhurt but a documentary filmmaker Finn Nørgaard was killed. A month earlier, Islamists murdered cartoonists at Charlie Hebdo in Paris. On one level, the Danish attack was prosaically ineffective. The attacker could not gain entry to the building so he sprayed bullets through a glass door. On another level, it marks a new standard, where anyone associating with "insulters of the prophet" can expect to be a target for extremists.
The cartoons of Vilks and Charlie Hebdo will not be discussed. That has been done elsewhere. We should, perhaps, evaluate what recent assaults on controversial art and satirical journalism – and the assaults yet to come – will mean for arts in the West. It is worth considering how Islamists – some of them born and raised in wholly (or largely) secular European countries – have rejected Western values but have also absorbed aspects of secular culture. This essay cannot be a full account. Though arguments and positions here are simplified, they are not – hopefully – misrepresented. Footnotes have been kept to a minimum, omitting many news sources and much background material.
Here, "Islamism" is used to refer to "the assertive application of Islamic principles to political and social spheres" as differentiated from Islam practiced as a private ethical code; "extremist" is a personal will to use violence and the threat of violence to achieve his aims; "post-liberal" (1) is used as an adjective to describe the uneasy consensus between mainstream socio-political strands in Western societies, one which accommodates identity politics and encourages constraints on speech, voluntary and otherwise.
Civility and Censorship
In recent weeks a common refrain of many commentators and journalists has been "The murder of the Charlie Hebdo cartoonists was wrong but…". Many felt that cartoonists who had freedom to ridicule Mohammed should not have exercised that right. The inference is that freedom to be irresponsible is not freedom from consequences of irresponsibility. Some of the cartoons were puerile and juvenile but there is plenty of material in that class; public lavatory walls and Internet websites are full of it. The difference is that the cartoons had authors' names attached and there was a particular address where they could be found.
It seems that today people who deliberately set out to insult Islam can expect reprisals. Although there is a case to put that we should protect reckless individuals as a matter of principle – and this essay will not argue against that – it is more important that we consider the murders as (at least partly) an extreme manifestation of the climate of accommodation that already compromises our liberty and affects us as citizens, readers and makers of art.
As we have seen in the pages of arts journals (notably The Jackdaw and The Art Newspaper) and on the website Spiked, the practice of pre-emptive censorship has become an ever-present reality. Nowadays, institutions do not react to criticism but anticipate it. Formerly (in what we must now consider a brief post-War heyday), we relied on institutions to promote and protect difficult art. Institutions introduced new stimulating art and would defend it. Difficult art would at least be shown, allowing us to judge for ourselves. Now institutions fight shy of presenting anything which might cause "community tension". What has happened to John Latham's collage of Bible, Talmud and Koran   (2) owned by the Tate? Will it ever go on public display?
What goes undiscussed is the self-censorship which occurs daily in the lives of satirists, artists and writers. We have all held our tongues in everyday life when we thought speaking out would cause more harm than it would do good. In some respects that is human nature – the desire to avoid conflict and let sleeping dogs lie. When standing up for one's ideas involves placing others in harm's way, one naturally grows more tentative. Where you might risk your own safety, you often find you cannot risk that of your family and colleagues. This is something everyone link