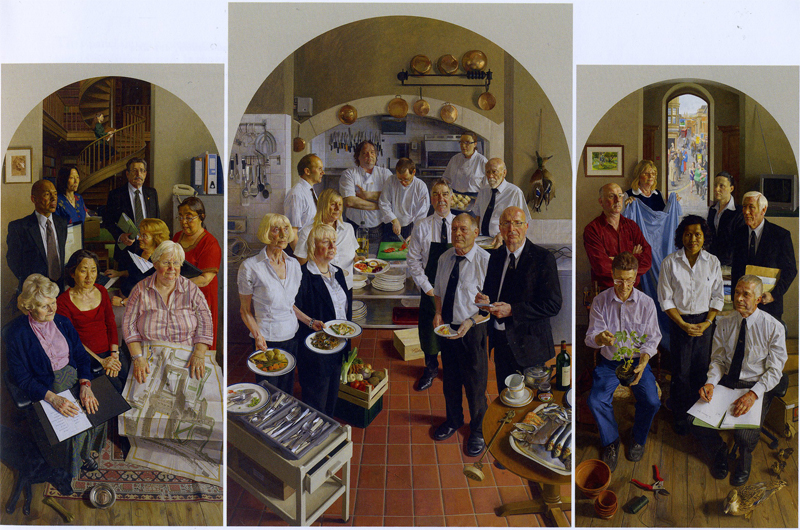 This large triptych of almost medieval ambition by Ben Sullivan, depicting the 27 non-academic staff of All Souls College in Oxford each of whom sat for the artist, was exhibited briefly during the autumn in the Ashmolean. It is now in its intended permanent home in the southernmost of Hawksmoor's twin towers at the college. It has been four years in the making and gone through many revisions of approach and scale. In 2003, Sullivan was, at 26, the youngest ever artist elected to the Royal Society of Portrait Painters.
The All Souls triptych is oil on canvas, and its dimensions 155 x 75 cms for the side panels and a central  panel of 175 x 115 cms. The left panel shows the professional and administrative staff, the central panel concerns those involved with food, and the right-hand panel introduces porters and those staff responsible for accommodation, repairs and gardening.
This is an important painting which should be shown in the National Portrait Gallery along with its preparatory sketches.
Of the commission Sullivan has written:
"The draft proposal was influenced by stylistic and compositional elements from Stanley Spencer's paintings at Sandham Memorial Chapel at Burghclere. This was a natural point of reference as, like Spencer, I wanted to give an account of people's day to day activities: to celebrate them as individuals and to elevate and dignify their work. Given the almost religious reverence to be shown to both persons and their tasks, a triptych seemed to be the perfect format."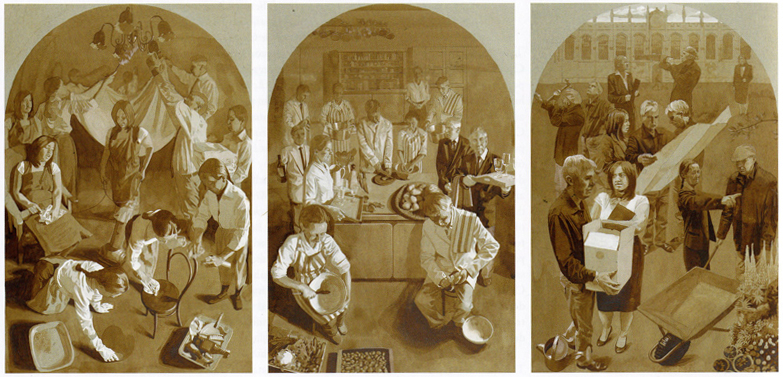 David Lee
The Jackdaw, October 2012