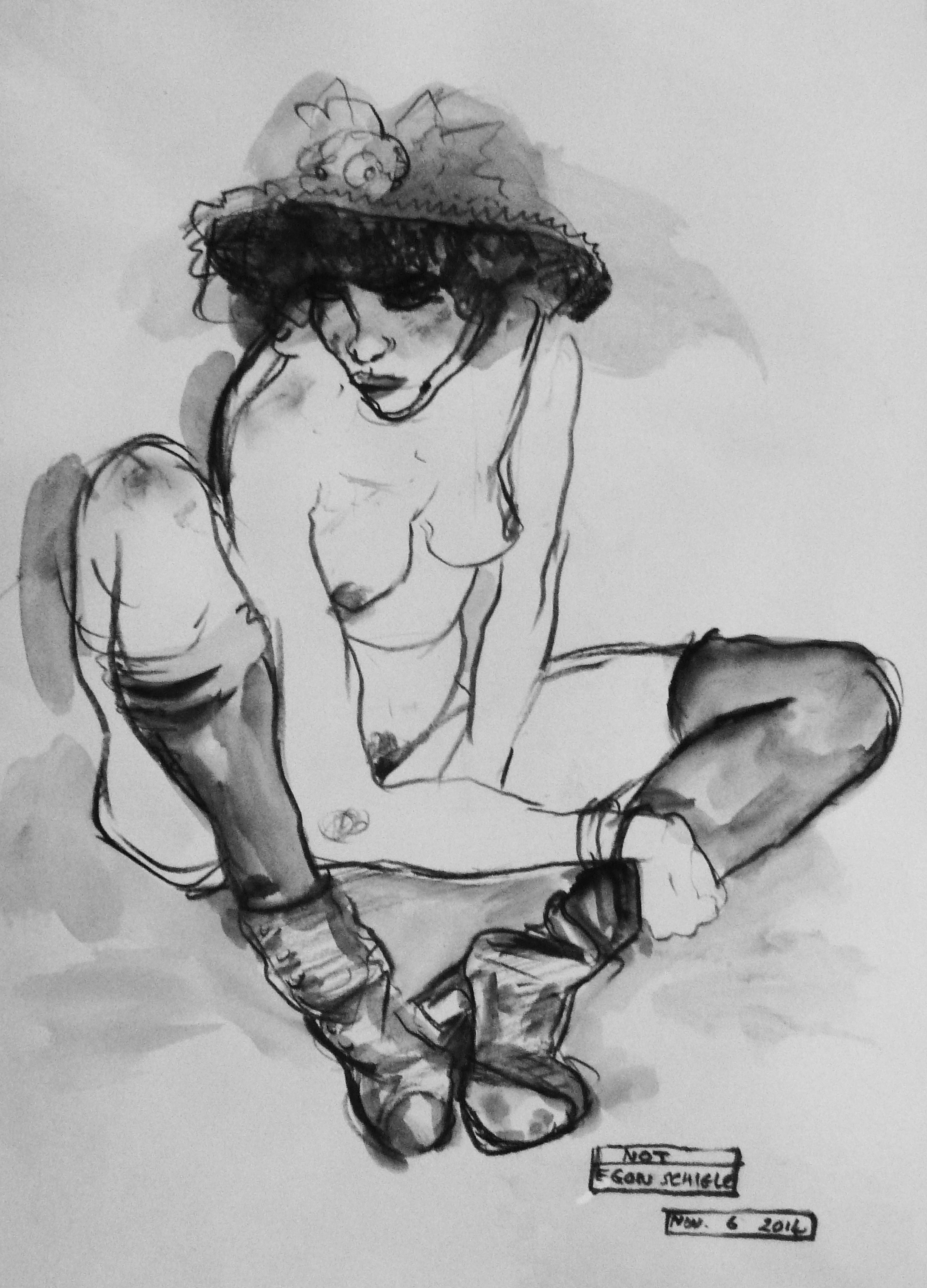 1
Mrs Cravat emerges from her Islington bunker. She keeps a large stuffed bear in the hallway – Rupert had seen better days. His pelt is wearing a little thin down where she strokes him for luck, but he has sentimental value. She bought him off Chris Farlow when he had a Nazi regalia shop on the Essex Road. She'll do anything for an old rock star. She's on her way to Gordon's, a curious wine bar at the bottom of Villiers Street. It's public transport nowadays for Mrs C, ever since 'Gromit', a sidecar racer and one of last year's boyfriends, had high-sided at Highbury Corner and spread them both across the road.
Gordon's looks derelict from the outside but downstairs it's like the set of La Boheme, apart from the office workers. It's a wine and sherry bar, no beer unfortunately but they do a good large tumbler of Manzanilla – that's the one that tastes like seawater, but I like it. It's handy for the bridge – we were heading for a sculpture show at the Hayward called 'The Human Factor'.
It was graduation day at the Festival Hall. Students all over the place in their gowns and mortarboards. In my day this business was regarded as a joke. A friend and fellow-student of mine mounted the stage, de-cloaked himself with the flourish of a torero, and tore his diploma to pieces scattering it to the audience. But he didn't deliver the promised speech; pity that. Lord Goodman, no less, was handing out the gongs on this occasion, but those were th'olden days.
It costs a score for two oldies to get into the Hayward. It's a disgrace, and when we saw what was on offer it seemed like fraud. I've never seen such a sparsely arranged load of body castings in my life. I'd only taken her there because she wanted to see Jeff Coon's statue of Popeye the sailor man, but I'd got it wrong again – happens a lot these days. I asked an attendant "Where's Popeye the sailor man?" "Who's Popeye the Sailor man?", he replied. Surely they have Popeye in Nigeria. The original Popeye comics of the 30's included 'The Sea Hag' and a weird character called 'The Goon' (whose real name was Alice) as well as J. Wellington Wimpey and Olive Oyl of course. Mr's Cravat's daughter has a tattoo of 'The Sea Hag' on her arm. Nowadays few remember the complete cast of characters involved in the world of Popeye, but at the time they were shocking, rather like the horror comics of the 50s. I recommend them, great low art, or maybe not so low when you consider what else is on offer.
After we hurried through the exhibition I thought of Peter Cook and 'the worst job I ever had'. Those poor attendants! Talk about "picking lobsters out of Jayne Mansfield's bum". I'd take that any day. On the top floor, with still no sign of Popeye, we found an attendant bent double over the concrete balustrade. I asked him if he was okay. He didn't reply or move, he seemed to be in tears. On the way out I noticed that the exit door was some distance from the ticket booth – a good move that.
Back over the bridge and a quick one in the Salisbury before tackling 'The Beep' at the National Portrait Gallery. This is a popular exhibition, always crowded and of consistent quality and some interest. The best painting in the show is by Natalia Dik from St Petersburg, a sumptuously painted daughter and child – no prize of course. Ochres, yellows, raw umbers and a lovely use of thick white, spirited and genuine. It was hung next to one of the worst and nastiest examples of the big face school I have ever seen, of which there are several other samples.
Copycat by Edwin Sutcliffe. Yuk. Princess Julia by Ben Ashton is an intricately painted oriental woman on a background of raw canvas – reminded me of Tretchikoff. Jelena Bulagic, another member of the "école des visages grandes" took 400 photos of her subject before selecting the one to copy, and here it is, another horror; 'Tony' in shades of blue. It's