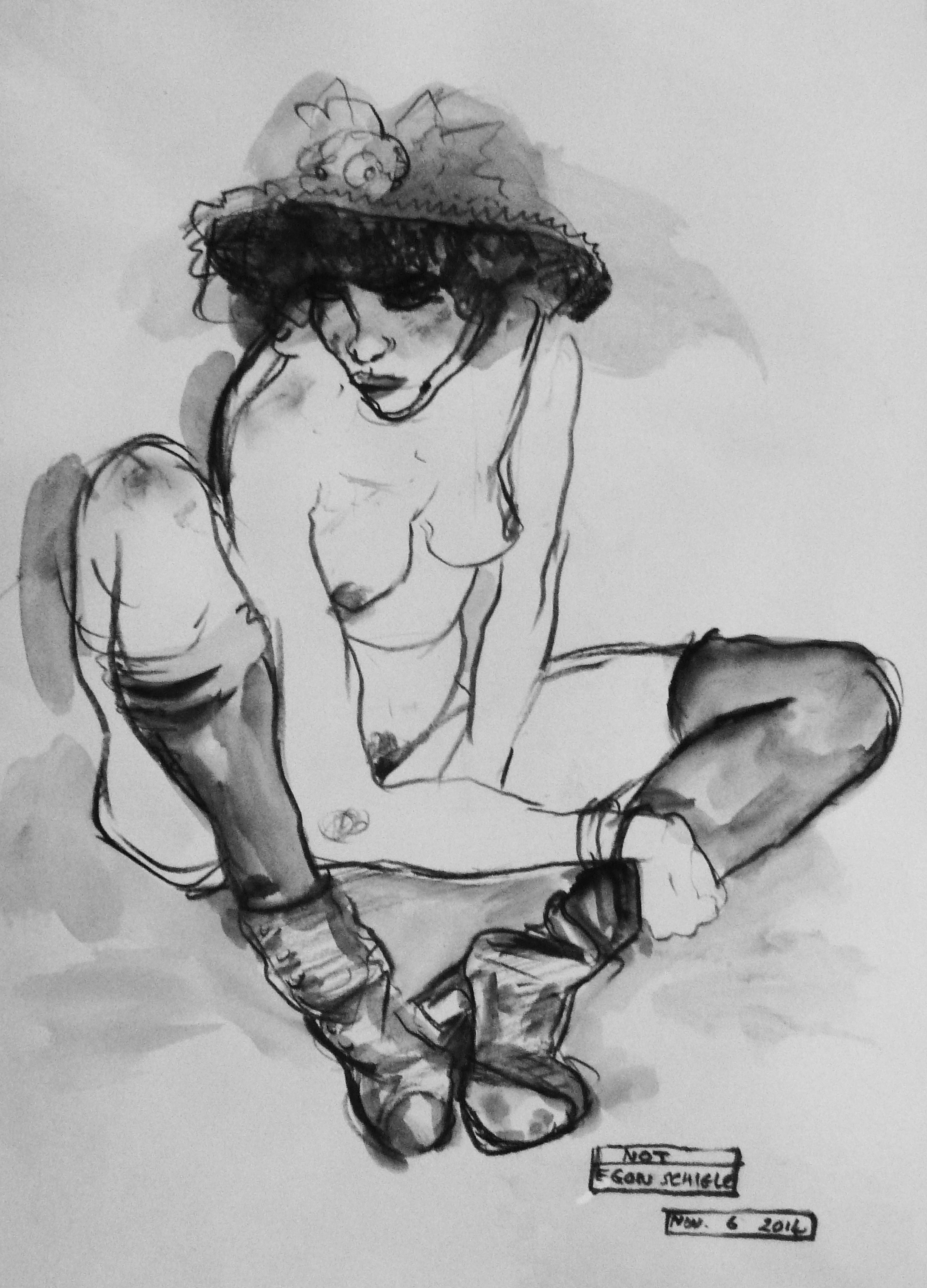 1
Mrs Cravat emerges from her Islington bunker. She keeps a large stuffed bear in the hallway – Rupert had seen better days. His pelt is wearing a little thin down where she strokes him for luck, but he has sentimental value. She bought him off Chris Farlow when he had a Nazi regalia shop on the Essex Road. She'll do anything for an old rock star. She's on her way to Gordon's, a curious wine bar at the bottom of Villiers Street. It's public transport nowadays for Mrs C, ever since 'Gromit', a sidecar racer and one of last year's boyfriends, had high-sided at Highbury Corner and spread them both across the road.
Gordon's looks derelict from the outside but downstairs it's like the set of La Boheme, apart from the office workers. It's a wine and sherry bar, no beer unfortunately but they do a good large tumbler of Manzanilla – that's the one that tastes like seawater, but I like it. It's handy for the bridge – we were heading for a sculpture show at the Hayward called 'The Human Factor'.
It was graduation day at the Festival Hall. Students all over the place in their gowns and mortarboards. In my day this business was regarded as a joke. A friend and fellow-student of mine mounted the stage, de-cloaked himself with the flourish of a torero, and tore his diploma to pieces scattering it to the audience. But he didn't deliver the promised speech; pity that. Lord Goodman, no less, was handing out the gongs on this occasion, but those were th'olden days.
It costs a score for two oldies to get into the Hayward. It's a disgrace, and when we saw what was on offer it seemed like fraud. I've never seen such a sparsely arranged load of body castings in my life. I'd only taken her there because she wanted to see Jeff Coon's statue of Popeye the sailor man, but I'd got it wrong again – happens a lot these days. I asked an attendant "Where's Popeye the sailor man?" "Who's Popeye the Sailor man?", he replied. Surely they have Popeye in Nigeria. The original Popeye comics of the 30's included 'The Sea Hag' and a weird character called 'The Goon' (whose real name was Alice) as well as J. Wellington Wimpey and Olive Oyl of course. Mr's Cravat's daughter has a tattoo of 'The Sea Hag' on her arm. Nowadays few remember the complete cast of characters involved in the world of Popeye, but at the time they were shocking, rather like the horror comics of the 50s. I recommend them, great low art, or maybe not so low when you consider what else is on offer.
After we hurried through the exhibition I thought of Peter Cook
and 'the worst job I ever had'. Those poor attendants! Talk about "picking lobsters out of Jayne Mansfield's bum". I'd take that any day. On the top floor, with still no sign of Popeye, we found an attendant bent double over the concrete balustrade. I asked him if he was okay. He didn't reply or move, he seemed to be in tears. On the way out I noticed that the exit door was some distance from the ticket booth – a good move that.
Back over the bridge and a quick one in the Salisbury before tackling 'The Beep' at the National Portrait Gallery. This is a popular exhibition, always crowded and of consistent quality and some interest. The best painting in the show is by Natalia Dik from St Petersburg, a sumptuously painted daughter and child – no prize of course. Ochres, yellows, raw umbers and a lovely use of thick white, spirited and genuine. It was hung next to one of the worst and nastiest examples of the big face school I have ever seen, of which there are several other samples.
Copycat by Edwin Sutcliffe. Yuk. Princess Julia by Ben Ashton is an intricately painted oriental woman on a background of raw canvas – reminded me of Tretchikoff. Jelena Bulagic, another member of the "école des visages grandes" took 400 photos of her subject before selecting the one to copy, and here it is, another horror; 'Tony' in shades of blue. It's a funny business this painting of massive canvas-filling faces, but I suppose it frees you from the problems of setting, background and mood, and of course theme and composition.
A painter I liked last year is Liza Stokes. This year she shows Self-Portrait After the Fire, an isolated figure
---
nginx/1.17.10
in a long red dress against a dark background on which curiously is hung a coat hanger. She paints in a free, 'wonky faced' style. Impastose and distressed, they don't look easy.
2nd prize goes to Richard Twose, a portrait of Jean Woods, a totally perverse choice in my view, a quite mediocre effort but the face and hair rang a bell. It looked just like that widow twankey bloke who does the coil pots with bad drawings on them, even down to the syrup. I asked two old ladies who it looked like. "Grayson Perry" they replied, "but what's all that stuff at the bottom?" I explained that it was the artistic bit where he couldn't get the arms and hands right – fudge it and smudge it!
There's a picture by Paul Benney called Fergus, a man in a pinstriped suit cuddling a suckling pig (see illustration on page 42). The face and specs are accomplished and the lines of the suit are excellent. The pig-clutching could have been better, more messy perhaps. It held my attention and I grew to like it.
There's a good nude by Jose Abbad Jaime De Aragon. He says he placed the model in a chair and asked her to "express herself". That's really asking for it and it's a pity she didn't.
It was time to get back up to the Salisbury to meet Mrs Cravat's daughter who was getting married in a few days to a beautiful Australian girl. The whole family had pitched up. We drank Pimms and it was like a scene from Barry McKenzie.
404 Not Found
They all went off to look at Buckingham Palace and, besides, I had to get up to the French to meet Becky the scrapyard queen. Becky lives in darkest Somerset where scrapyards abound and grass grows up the middle of the road. Where taxi drivers mutter: "I'll tek ee this far and no futha!" You'd never catch me in the country; I've seen Straw Dogs (to quote Arthur Daley).
She's recently crashed her car into a stag on a forest road. The policeman told her to take it home and eat it. A year ago she'd tried to drag me along to a lunch at the Royal Academy but I made my excuses. I can't be doing with the RA since the loonies took over. I love the story of Edward Burra, working away in his little studio at the top of the family home with the photo of a leper on his door. The butler knocked. "Mr Edward sir, there's a gentleman from the Royal Academy on the telephone." "Tell 'im to fack orff!"
Anyway, Becky was spending the afternoon troughing at the RA. I was having a few quiet moments in the French with a Leffe blonde and then all the Aussies turned up again. They seemed to agree with me about Buck House being architecturally undistinguished, and they were keen to get stuck into the Normandy cider, despite my warnings about it's emetic properties. About half an hour later the Scrapyard Queen turned up with a very artistic fellow in tow. It's interesting that Becky from Wurzelland doesn't like cider and prefers the Leffe…
It was time for Bradley's. All nights end in Bradley's. There's been a pub here for centuries, but what you see now was designed as a high-class rug joint in the 50's, but rug got sticky. On the way I introduced everyone to cobwebbed Gregorio, King of the Paraffins, who lives in Soho Square. A charming man, he used to be a chef in Ronnie Scott's. He's quite hard to spot these days as he's taken on the colouring of his surroundings, a bit like a chameleon. Unfortunately they don't let him into Bradley's anymore but he occupies various doorways nearby and he's never short of a pint.
At this point you might be asking what has this to do with art? Good question. But art doesn't come out of nowhere, it comes out of the seething, reeking messy stuff of experience, and Gregorio is certainly seething and reeking. I've even done his portrait – it hangs in Bradley's. Bradley's has the only vinyl jukebox in the west end; even the Ace café has a CD jukebox! The Scrapyard Queen is a great dancer – she's a pro, jives beautifully anticipating every move. And so we danced the night away. No idea what happened to that artistic fella. I took her to the tube. At this point I was going to describe her paintings but she's not answering the phone. What did I say?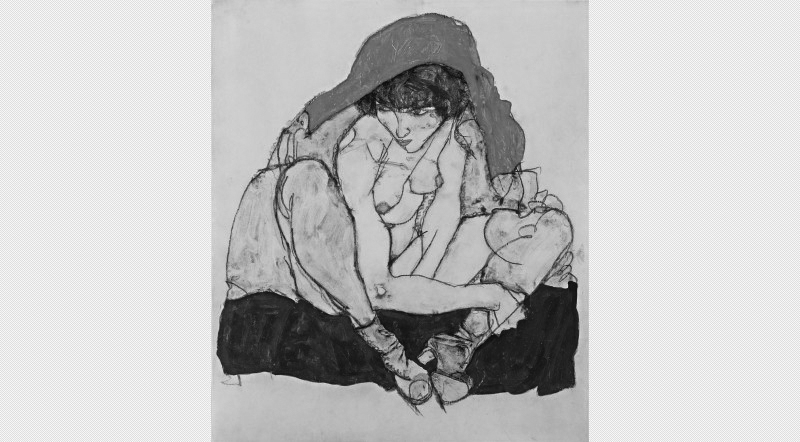 2
In the antique shop on the corner, was a curious musical instrument. It looked like the kind Tom Waits would play. A vertically extendable wooden cabinet with pearlised keyboard and a sort of concertina pump at the rear. Only £20. I just had to have it. I showed it to Dilip who runs the beer shop across the road. "It's a harmonium", he said. Then I remembered seeing people sitting cross legged, pumping away with one arm and playing with the other. It sits on the end of my table and is the perfect height for writing on, like a lectern. If I ever have a bright idea I give it a quick pump with the left hand and let out a couple of chords – farts more like. It's not always easy, the teenagers are having a party in the next room and the smell of bogey weed is drifting in. (A.minor with sustain)
In the Daily Telegraph recently there was a photo of Biffa Bacon's mother posing with one of her new reclining bronze lumps. There will have been much harrumphing among the readership. When it comes to self-delusion this old Viz stalwart really takes the biscuit. Unsurpassed if not unprecedented. One thinks of Florence Foster Jenkins who used to hire the Carnegie Hall every year. Her version of the Queen of the Night aria from The Magic Flute is unbeatable. "Full sooty was her bower, and eke her hall like e'en unto the space betwixt her ears" to adapt Chaucer's Nun's Priest. Or as Mrs Cravat said: "Some people just never leave art school, they're like bits dropped off."
Last night to the opera with the scrapyard Queen, it was La Boheme, the set based on Brassai's photos of 1930s Paris. Quite excellent, as was the performance. We were in the French beforehand and one of the ladies behind the bar gave us a couple of yards of paper towel which came in handy. We had good seats but seemed to be in the coughing section. It's funny how these people never coughed during the interval. Maybe they were in sympathy with Mimi Musetta, who was perfectly styled in a peach pencil skirted suit.
Afterwards the scrapyard Queen had to get over to Paddington as she lives in darkest Somerset, so we crossed Leicester Square to Piccadilly Circus. Leicester Square is ghastly these days, one of the earliest parts of the West End to be pedestrianised. Bring back the traffic I say. Few people now remember that it ever had traffic. In the north-eastern corner was a notorious underground cottage. Peter Cook used to have fun there after closing time. On his way down the stairs he would bellow "All right sergeant you take that side!", and then relish the confusion as pink oboes were hurriedly unplayed.
There was just time for a quick one in Bradley's. A light rain was falling and I made my way through the black sparkling streets and alleyways with Musetta's waltz running through my head. A large Vera and half a bottle of tonic and then off home. The place was packed with office workers … bloke's night.
Up in Islington, George Rowlett, the General Custer de nos jours, has been showing some powerful interiors and flower pieces at the Art Space gallery. There's a spiral staircase at the Art Space and a couple of years ago I remember Mrs Cravat was going down behind Craigie Aitchison. I'll rephrase that. She stumbled and spilt a glass of wine over his venerable white locks. I had to suppress a chuckle. He's high on my list of the worst painters ever. If ever I have the misfortune of seeing one of his feeble daubs I just think "If I'd done that, I'd hide it."
And now to George Rowlett, who never has a bad word to say about anybody. But as Edward Burra said, "I get into such paroxysms of impotent venom, I feel it must poison the atmosphere." These days George has been working between thick and thin. For those who don't know his paintings, he works in the most impasto style imaginable. He gave up brushes a few years ago and now works with knife and spatula, always on the spot. He transports his paintings on the back of his bicycle with an ingenious carrying device. While staying at Eric Gill's old monastery at Capel-y-ffin, he nearly got blown off the Gospel Pass while riding back with a four-footer from Lord Hereford's Knob. His energy and consistency amaze me. It's impossible to write about his paintings in a temperate manner. Mel Gooding wrote in a recent catalogue: "His painterly radiance is epiphanic". Good one. Somewhere in my notes I've scribbled down "pantheistic spasms" … maybe I'll even get into Pseud's Corner.
At the Courtauld Gallery is a small exhibition of Egon Schiele drawings. I've been twice. The second time I took along Mrs Cravat and her brother the archaeologist who works with that bloke with the sweaty hat on Time Team. On our way up the Strand there was a tiny tiled alleyway which I'd never noticed before. It led to a little pub called the Nell Gwynne – and I thought I knew everywhere! I had a Brigadoon moment. But it was real enough and they saw it as well. So in we went. What a wonderful place and the beer was excellent and  had a barrel of really vicious scrumpy which we sampled in a small way. The top of the alley came out on Maiden Lane, Turner's birthplace – the barber's shop.
Somerset House is beautiful at this time of year with the skating rink and tree. What a magnificent square it is. Hundreds of years ago, before they built the Embankment, it dropped down at the back straight onto the river and had a watergate.
It was crowded in the Courtauld and to get to the Schiele drawings you have to go through a gallery of Jasper Johns' recent work. I've never liked Johns; the cake he bakes is much too light for me. I suppose he was the antidote to Rauschenberg whose work I still admire. Schiele's drawings and gouaches fall into two categories: the loving girls and women delicately and sensually drawn, if a little battered and bruised; and the male nudes, stylised and expressionistic. Much is made in the catalogue of the influence of Nietzsche. Schiele wrote: "I bring forth out of myself always more, always something further, an endlessly brighter shining, as far as love which is everything enriches me … My existence, my decay, transposed to enduring values … I am so rich that I must give myself away."
I feel that in the male nudes he's imposing on himself – they're forced. I wonder if he regarded them as his more serious works and the girls as entertainment. But with the girls he got his ego out of the way and just responded to the beauty of their bodies. If he hadn't died so young in the 1918 flu epidemic he may have turned into a sort of Bernard Buffet. I enjoyed his nudes so much I spent a couple of days copying them from the catalogue. Soluble Derwent 'intense pencils' on wet paper. Great fun.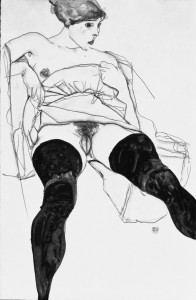 3
You meet some funny people in the art world. I suppose it's because of the fuzzy edges nowadays. Everybody feels that they can have a go – how very democratic.
Some years ago I was invited to a dinner party by a very nice lady who was setting up as the agent. It was quite a spread; champagne, caviar, foie gras, the whole bit. She had a framed photo of Stalin which she kept passing round saying "wasn't he handsome, so beautiful". There were some other artists at the table – but artists tend to be a polite lot these days.
The following day she phoned and told me that she had just been doing the washing up and noticed that some of her spoons were missing.
"Did you steal them?"
"Why would I want to steal your spoons?"
"Well I don't know but I thought it was the sort of thing artists do."
I wonder if Gertrude Stein ever phoned up the Bateau Lavoir to ask Picasso about her absent spoons. And what about Peggy Guggenheim and Samuel Beckett. Mind you, by the time she got round to Sam it's a wonder the old tart had any spoons left at all.
I was going to write something serious this time about the 1890s, Arthur Symons, Ernest Dowson, Charles Conder … The moment when Verlaine appeared in Fountain Court in the Temple at 3am. Symons was pacing about waiting for him. He heard his stick first and then the great shambling sozzled form emerged from the fog. It was to be the start of his English lecture tour.
I was rummaging around in my coat pocket. Half of last night's kebab and a crumpled piece of thin blue card. Smoothing it out revealed it to be a ticket to the RA Summer Show. I showed it to Reginald Dixon, who sits beside me. He was sharpening his quill in readiness for another excoriating attack on the evils of modernismo. "Looks like you'll have to go back to being frivolous," he chuckled. "Frivolous, moi?"
It was another hot day at HQ. The cider boy had been in and out on rollerskates. He was wearing patterned Bermuda shorts. I deplore the wearing of shorts in town. Excepting Laura of course, who was bent over the fax machine in a stunning pair of Kilverts (see the diaries).
The Jackdaw called for Smith
"Yes JD."
"I didn't get where I am today by wearing a poncho to the office."
"Laura! Get me the Chelsea Arts Club. I want to speak to a whingeing loser."
Said whingeing loser raised his head from the plate and plucked a piece of pheasant from his ear.
"Do you know how much sleep I got last night?"
"It's the telephone sir."
WL and Miss Guildford were soon speeding across town. She asked the driver to drop her off at her other club on Dover Street. WL carried on to headquarters where he was asked to rough out a strip cartoon called 'Proposals for Mr S'.
It was to be set in a dungeon not far from Warren Street presided over by my friend Mistress Trish, (but more of this later).
My route to the RA would take me down Sherwood Street, where Ernest Dowson spent so much time with his young girlfriend in her father's cafe. He wouldn't recognise it now; even the Regent Palace Hotel is gone. And then the Café Royal where Arthur Symons, that most durable of decadents used to hang out. He went mad in 1908 but lived on until '45. A minor poet I suppose, but his haunting poem, White Heliotrope, is worth looking up.
He lived in Sussex for the last 30 years of his life, not far from Edward Burra. It's curious that Burra never mentions him in his wonderful gossipy letters. He must've been aware of him, being a great fan of the 1890s. Perhaps Symons was more shunned locally than his biographer lets on, but that wouldn't have bothered Burra.
It's said that Symons spat and cursed whenever he saw a clergyman in the street. And let's face it there's nothing wrong with that.
Occasionally, Symons would turn up alone at the Café Royal. John Betjeman wrote a piece about him in the visitors' book.
Saw him in the Café Royal
Very old and very grand
Modernistic shone the Lamplight
There in London's fairyland.
Devill'd chicken, Devill'd whitebait,
Devil if I understand
Where is Oscar? Where is Bosie?
Have I seen that man before?
And the old one in the corner
Is it really Wratislaw?
Scent of tutti-frutti-sen-sen
And cheroots upon the floor.
A forgotten man. He was what used to be called a stage door Johnny, but instead of the top hat and scarlet lined cloak of the "masher" or "Knut"…. he adopted the mode of the Latin Quarter. Broad hat and Inverness cape. Port bottle style. He wore it throughout his life. At the Royal College in the 60s there was a visiting tutor who wore the same gear. I think he was Welsh.
I made it through the crowds to the RA, which was packed. The first thing you see is a horrible tall shambling thing by yinky shinky pooh bah. All trussed up in the usual ethnic fabrics. I suppose the poor man will have to go on doing this shit for the rest of his life. Favour once bestowed is seldom withdrawn and people like to know where they are with an artist. After all it's no good if people you are trying to impress don't recognise what you bought.
"Changed his style?"
"Oh super!" I don't think.
The only thing I admired about his ship in a bottle was that the bottle was proportionate to the plinth. The same can be said of the big blue chicken, but not much else.
The summer show … What a tedious jumble of banality. And there's so
much of it. But wait, I had a surprise in store. Hanging next to an execrable late Alan Davie is a beautiful sombre abstract painting by Sean Scully. In the past I always dismissed him as a 'same old' merchant, but this was something else. Blacks, umbers, greys, in rectangular sections as usual, but they were laid on sumptuously and the interfacings had a quivering almost electrical quality. A thing of great elegance and feeling.
It was a relief to escape the madhouse and wander up the Burlington Arcade. I like the fountain pens up at the top. It used to be the old Sullivan Powell cigarette shop, the Oval Turkish one that smelled so good.
Over the road to Cork Street, which seems to be closing down. And then along Brewer Street and up Walkers Court. Even the shops are closing down, the big fladge place on the corner is all boarded-up. "Change and decay in all around I see". My favourite fruit and veg stall in Berwick Street has gone too – the long one with the green and red canopy and the lights blazing all day, which made everything look much tastier. There was a fantastically pissed costermonger and another one who is curiously deformed. In season the best place for blood oranges.
I sometimes enjoy the Blue Posts nearby, even though it has the most miserable landlord in London. He doesn't even have a sign on the toilet door; it just says 'Private'. You have to be in the know. It's a bit like that pub in Quatermass and the Pit.
Whingeing Loser is not really on the strength these days but he can always be relied on in an emergency. When he's not working he spends most of his time in the Chelsea arts club waiting for Marianne Faithfull to turn up.
Down in the bowels of Warren Street, Mistress Trish was showing me something new. This she said, slapping the side of the tall narrow green locker is the isolation tank. There was an eye slot, and lower down a larger aperture.
Whingeing Loser's comic strip would start with Mr S being briefly interviewed in the parlour, before being led downstairs to finish with Mistress Trish popping his syrup on top of the tank. "Just so that I don't forget he's in there darling." She's a bit like Fenella Fielding in Carry on Screaming. An electric scent dispenser was set to turn on in 20 minutes. It gave out the smell of a burning building. But by that time we would be doing the rounds.
"How long shall we give him darling?"
"Why not let the evening decide."
During his confinement, he would be watching a Turner prize-winning video on an endless loop.
We went down to the Toucan near Soho square for some oysters and Guinness. I like to go in down the fire escape. It's okay as long as you're not wearing stilettos. Mistress Trish was wearing side-buckled biker boots and apart from the black leather skirt she was dressed just as she was when she popped Mr Serota in the tank. (Oops I've let it out). It was Whingeing Loser who had introduced me to the Toucan. It was on his round when he used to be a west end dustman. He's had a remarkable career. The best etcher in the business. One of my favourite pieces of his, shows him sprinting across the old Hungerford footbridge, pursued by a naked homosexualist.
Curious readers may be wondering why a friend and esteemed colleague should be clept 'whingeing loser'. It's the title bestowed on him in these pages by Stuart Pearson Wright – he of the long faces – after whingeing loser had speculated on the likely winner of a forthcoming open exhibition. His conclusion was a list of the usual suspects, which did not please Pearson Wright, who promptly wrote him off as … The name stuck and he doesn't mind.
I'm going to let Whingeing decide the outcome of this cartoon business. How about Mistress Trish leading a bunch of naked curators on all fours… Enough of this, I'm being frivolous again, but show me a way, a serious way to approach the corruption, ignorance and pretentiousness that has characterised the art world for the past 45 years. You've just got to have a laugh.
Enough of this rubbish. A couple of years ago at the Courtauld there was a show of Frank Auerbach's paintings from the late 50s and early 60s. They were to do with the rebuilding of London after the war. I thought many of them magnificent. There was a sense of grandeur, so I was keen to see the small show of his pictures at the Tate from the collection of Lucien Freud. Two were good, the rest scrapings. They show the onset of his having tantrums in the sky, zig-zag-zig. There's a Mornington Crescent scene from 1989 where he has a massive tantrum just about 6 feet above the pavement. Primrose Hill Winter, '81 I liked, atmospheric and tonally beautiful; and Rebuilding the Empire Cinema in Leicester Square, which was one from the Courtauld show period, are worth a visit. But as for the drawings, he just can't.
4
Allen Jones, pubism, the Hoxton tripes, the ligger, Robert Morley and the dwarves, Peder Balke, Maggi Hambling, now read on…
There was a bus strike so I had to go into town on the tube. Over breakfast in Bradley's I was discussing this with Rob the cage fighter.
"I always like to go by bus."
"That's because you like to watch the whelks go by."
I liked this, but didn't quite understand.
"The whelks?" It was his cockney accent, you see.
"The world you turnip, turn it on!"
Must be a drawing in there somewhere – they would have to be quite large. I was on my way to the Allen Jones show at the Royal Academy. The best place to refresh yourself before tackling the RA is The Chequers on Duke Street, although the clientele can be a bit poncy.
"A brace of Pride", demanded a gent next to me.
The poor girl behind the bar couldn't understand, so I had to explain in my rusty Italian, that he wanted two pints of London Pride and that he was a Fanculo. It's how to make friends.
I went into the RA by the wrong entrance, but it was fortunate because I got to see the rusty model U-boats in the glass tank by Kiefer. The Jones show is round the back in the old Museum of Mankind. After a gallery of ladytables there's a room of studio items. A cartoon by Franklin shows a collection of Jones' fetish sculptures. A businessman is tapping the ash off his cigar into the cleavage of a very well endowed woman. "Excuse me sir, that ashtray happens to be my wife!" The best laugh in the whole show.
The early paintings took me back to the 60's immaculate hard edge colour field paintings with an intrusion here and there. Jones's intrusions were fairly well mannered, geometrical heads etc.. When I was a young student up in Sheffield those of us who considered ourselves to be in the avant garde followed a similar formula but took it a bit further. Our intrusions were organic and sometimes downright obscene. Leading to the short-lived school of pubism … which didn't travel. I remember a group of us submitting our efforts to the Northern Young Contemporaries in Manchester. The look on the faces of the jury was an education, Joe Tilson, Hubert Dalwood, etc.. I realised that these famous pop artists were just pussies. They were so shocked, they do what they do and "that's about it". They do it to keep the spivs who run the art shops happy. Still, I liked the ladyfurniture. It's just a pity that Jones didn't make it himself, not so slick maybe, but it would have been more interesting, except to the spivs.
Interval 2007 is spatially ingenious. The left panel reminded me of something by Glyn Philpot and there were some rare lighting effects. Jones works like an old style magazine illustrator. But I don't think he can really draw. Its all photo assisted. An old art school life drawing doesn't really show any real ability – why was it included? I suppose we don't value drawing now that we have 'mark making'.
The bent metal sculptures are ignorable and the things he did of Kate Moss are dreadful. Looking at the larger pieces I got the feeling that they'd been done to embellish smart buildings. There's nothing wrong with this of course, there are countless noble precedents, but Jones is no Giulio Romano. Painters who sculpt are as rare nowadays as artists who have more than one idea.
Jones is a perfect example of the artists who came to prominence in the 60's, in so far as none of them were painters. They were all graphic designers, illustration or personality smartypants. Hockney, Hamilton, Jones, Phillips, Prockter, (fill in if required). The one who transcended this tendency was Patrick Caulfield, who although he shared some of their limitations, made paintings of great subtlety and unlikely beauty. He had vision.
It made me think of some of my own forays into the world of sculpture. At college Peter Blake encouraged me to work with latex rubber, I never understood why but it was interesting. The only place to buy it was an underground office on Tower Hill, presided over by two old men in brown dustcoats who seemed curiously reluctant to part with it. I'm sure that one of them must have been in charge of the coal box. Eventually I managed to purchase three gallons and struggled back to college on the District Line. I made a wide frame in the rococo organic style for a large painting that I had on the go. It was stuffed with kapok and leaked. The great thing about latex is that it perishes and discolours, it's really degenerate and stinks. Think of copydex, which is much the same stuff. In the early '80s I started working again with latex, but this time I was pouring membranes on the flat roof of a studio in Boot Street (now a Holiday Inn).
Lay out a bed of clay on an old door and make indentations with coins, brush handles etc., then pour on the Latex – it usually takes several layers. Then leave in the sun to dry out. Any water-based dye will colour it. Peel it off, wash off the clay and you're left with something truly disgusting. Like tripe, but more so. I poured several and welded them together. But what to do with them? I draped the front of the building to the great surprise of the passengers on the 55 bus, who were stuck in a traffic jam. I then hauled them up again which was not easy as they snagged. And then a friend came round who worked in the theatre. A renowned groupie and ligger, she was working on a heavy metal video being shot in Hungary.
"This is exactly what I need for my dwarves!" she exclaimed.
As the band was playing in the video, a gang of dwarves was going to be scampering around in weird costumes and masks. It was her job to dress them. She asked me to do a few more with extra dangly bits and flew off with them. On her return we went for a drink and she told me all about it.
"You know how randy dwarves are."
"No, I don't know anything about dwarves actually."
"Well, at one point I was fixing the rubber costume on a dwarf in front of me with a dwarf on each leg".
I never saw the video. That night she thought she'd found out where Bob Marley was having a post-concert party, so a group of us went up the back stairs of a theatre into an upper room which was strangely quiet. Small clusters of people were standing around drinking champagne. At the far end of the room was a long table of diners, a bit like the last supper and in the middle sat not Bob Marley, but Robert Morley. I for one was relieved, as I'm allergic to bogey weed.
At the National Gallery is an interesting exhibition of Norwegian painter Peder Balke. It's amazing what people used to achieve with memory and a small sketchbook. His paintings of the North Cape from the 1840's are remarkable. As you look more deeply into them his tonal sense is extraordinary. Fishing boats and figures emerge from the gloom. He conveyed the surging tide with just a few brush strokes, which bring me to another show at the National Gallery…
What on earth happened to Maggi Hambling? 30-odd years ago she did some wonderful paintings of the great Max Wall. Since then it's been all downhill. There's that horrible thing of Oscar Wilde on the Strand, and the big scallop on Aldeburgh beach – I don't mind that so much but it's in the wrong place. An avant-garde fishmonger in Covent Garden would be more appropriate, and why anyone would want to celebrate Benjamin Britten is beyond me. I've always hated the old fisherman's friend. His music seems like a parody of Modernism. The sort of thing conjured up by a comedy scriptwriter.
One of the most dispiriting things about art shows is being in a room surrounded by paintings that are all the same, and that's what Hambling shows here. She's gone artistic. Great crashing waves is what they are supposed to be, but there is no real observation here, no subtlety. The colour range is the same throughout. The white is too white, and in the end they're just great crashing bores.
She should get back on the Special Brew and the Capstan Full Strength… I'm off to watch the whelks go by.